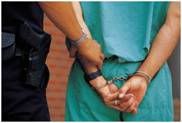 MIAMI-DADE, FLORIDA (May 19, 2011) – A fraudulent billing scam masterminded by Gregory Campbell, the 28-year-old son of State Rep. Daphne Campbell, has brought first-degree felony charges of grand theft, organized fraud and Medicaid fraud down on Mr. Campbell's head. He stands accused of billing the joint state and federally funded Medicaid program for $299,000 for services he never provided.
It appears Campbell billed for the same patients at two separate adult care facilities. Investigators also found Campbell billed for patients that did not live at either facility, and he offered kickbacks to the owner of one of the care sites.
Campbell was being held in the Miami-Dade county jail following his arrest on May 12. When contact by the press regarding her son's arrest, Rep. Campbell had no comment.
Healthcare Fraud Blog Publisher, Attorney Robert Malove, is an expert criminal trial lawyer as recognized by The Florida Bar. Mr. Malove has extensive experience in the area of health care fraud defense.
Mr. Malove has extensive experience in the area of fraudulent billing defense and represents the Florida Academy of Pain Medicine, Florida Academy of Physician Assistants, American Academy of Pain Management, and Florida Society of Neurology and has filed an amicus curiae brief in federal court challenging the constitutionality of the Florida statutes regulating the operation of pain clinics, i.e., pill mills.
If you, or someone you know is facing prosecution as a result of aggressive law enforcement activity of billing practices defense or doctor shopping, make sure you hire an experienced criminal defense attorney who is familiar with the issues.
Federal Healthcare Fraud Strike Force teams are currently operating in 9 locations: Miami, Los Angeles, Houston, Detroit, Brooklyn, Tampa, Baton Rouge, Dallas and Chicago.
If you or someone you know is a healthcare provider and in need of serious pill mills, doctor shopping or any healthcare fraud defense, please contact attorney Robert Malove, co-author of the noted treatise, WHITE COLLAR CRIME: HEALTH CARE FRAUD (West)(2010-2011 ed.) to arrange an immediate consultation.