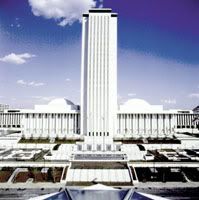 FORT LAUDERDALE, FLORIDA – Florida's Governor Rick Scott signed the "pill mill bill" into effect last Friday. The legislation is aimed at the pill pushing clinics that spawn drug addicts, dealers and deaths. Scott wants to end Florida's "dubious distinction" as the "Oxycodone Capital" of the nation.
Particulars of the bill, effective July 1, include a ban on pill sales at doctor's offices and clinics, an automatic suspension of six months for doctors who overprescribe, and penalties for pharmacies and drug wholesalers who fail to report suspicious prescribing activities. By October, the state will have a computer database to log all pain pill prescriptions, making it easier for doctors, pharmacists and law enforcement to monitor illegal activity.
The bill is not without its flaws and exempts pain clinic doctors and anesthesiologists with extra training in pain therapy. Some of these professionals have participated in pill mill activities in the past. Present at the bill signing (done at several different police stations throughout Florida), were members of law enforcement as well as political leaders, including the Mayor of Orange County, Theresa Jacobs and Dr. Jan Garavaglia, the Orange-Osceola Medical Examiner. Also in attendance, relatives who had lost loved ones to pain pill overdoses.
Healthcare Fraud Blog Publisher, Attorney Robert Malove, is an expert criminal trial lawyer as recognized by The Florida Bar. Mr. Malove has extensive experience in the area of health care fraud defense.
Mr. Malove has extensive experience in the area of pill mill defense and represents the Florida Academy of Pain Medicine, Florida Academy of Physician Assistants, American Academy of Pain Management, and Florida Society of Neurology and has filed an amicus curiae brief in federal court challenging the constitutionality of the Florida statutes regulating the operation of pain clinics, i.e., pill mills.
If you, or someone you know is facing prosecution as a result of aggressive law enforcement activity of pill mills or doctor shopping, make sure you hire an experienced criminal defense attorney who is familiar with the issues.
Federal Healthcare Fraud Strike Force teams are currently operating in 9 locations: Miami, Los Angeles, Houston, Detroit, Brooklyn, Tampa, Baton Rouge, Dallas and Chicago.
If you or someone you know is a healthcare provider and in need of serious pill mills, doctor shopping or any healthcare fraud defense, please contact attorney Robert Malove, co-author of the noted treatise, WHITE COLLAR CRIME: HEALTH CARE FRAUD (West)(2010-2011 ed.) to arrange an immediate consultation.