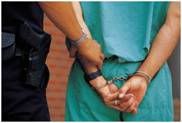 MIAMI, FLORIDA – A man charged with submitting false claims to Medicare for more than $2.5 million was apprehended at Miami International Airport after being on the lam since late last year. Luis Perez Moreira had been living in Cancun, Mexico.
Law enforcement authorities discovered the Moreira's durable medical equipment company, Rx Plus Medical Care submitted false claims to Medicare for $2.5 million from August 2008 to April 2009. Details of the indictment show that Medicare paid approximately $383,000 to the business. In order for Perez to perpetrate the fraud and go undetected himself, he and a business partner arranged for a "nominee owner" to put the business in his name, open bank accounts and sign blank checks to Perez.
Perez is charged with conspiracy to commit health care fraud and health care fraud.