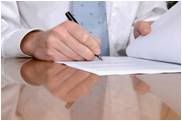 ATLANTA, GA – Dr. Robert Williams of Atlanta, pled guilty on two counts of health care fraud in billing Medicare and Medicaid for $2 million in group psychological therapy to deceased patients. Originally indicted on 10 counts of fraud, the doctor admitted to two.
From July 2007 through October 2009, Williams submitted over 55,000 claims for $2 million to Medicare for group psychological therapy at nursing homes scattered throughout the Atlanta area. Medicare reimbursed $750,000. During the same time period, Williams submitted more than 40,000 Medicaid claims, in which Georgia Medicaid paid out more than $225,000. Investigators uncovered that many of the beneficiaries of services were actually deceased at the time the claims were made. Claims were also made during times when other beneficiaries were hospitalized and could not have received any care at the nursing home sites.
Williams could receive a maximum sentence of ten years and fined up to $250,000 for each count. Sentencing is scheduled for August 23, 2011 in U.S. District Court.